Goose was laid to rest today. The Piranas were in attendance to honor the memory of our fallen brother.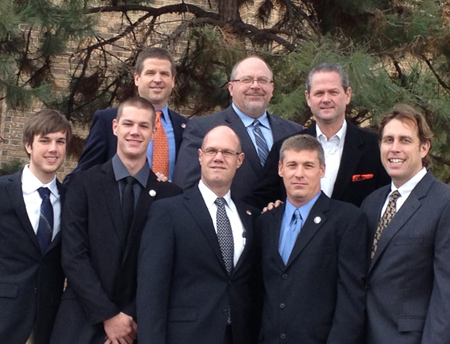 Mrs. Goose (would that make her Mother Goose too?) did a great job planning the service.
Dr. Faulkner (Metro Baptist pastor) officiated. We sang three hymns: "Love Divine, All Loves Excelling", "Great Is Thy Faithfulness" and "It Is Well With My Soul" (all the stanzas per the family's request). Five of Goose's friends and colleagues gave personal remembrances: Bill Schlittler (co-worker from Cole & Reed), Robert Black (friend from church), T3 (fellow Pirana), Neil Stratmeyer (long time personal friend and travel companion) and Chuck Robinson (his counselor). Additionally, the family (brother, sister, etc.) sang "Crux Fidelis".
Some very fun stories were told including one of our personal favorites: On our trip to Kentucky to run the Bourbon Chase, during one of the legs, a girl came up to Mav and said that she had just passed an "older gentleman" dressed like us that was on the side of the road throwing up in the ditch.  That was our Goose.  Trained light, ate like crap, and paid for it when had to put in the miles.
Goose's earthly remains were laid to rest at Arlington Memory Gardens in Midwest City, OK, but his spirit will follow us on road and trail.