Sunday, April 28th, 2013. The 13th Annual running of the Oklahoma City Memorial Marathon. This is a race that the Piraña Brothers know very well. T3 is the co-founder of the marathon. All the Pirañas have run in the race at some distance most years, and T3 has run all 13 marathons. All the Pirañas have participated in producing the event, holding positions from generic volunteer to president.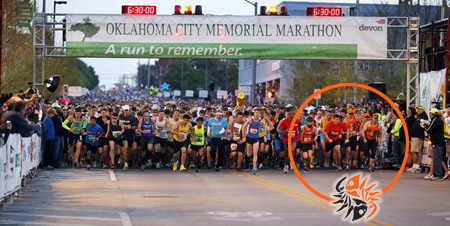 But this year the race was different.
Several significant things changed in the past year, but one was more significant than all the rest. The Pirañas lost Goose. More importantly, Goose's family lost Goose. His wife and 6 children now have memories in the spaces once once filled by the man they called dad. The Pirañas all have kids, and to think of leaving them is more painful than any race they ever endured.
So the Pirañas ran for Goose. In his honor. For his memory. For his family.
During 168 seconds of silence…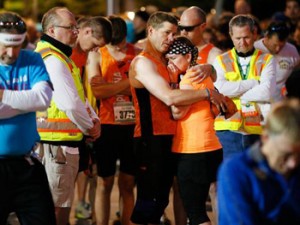 Pirañas ready to run!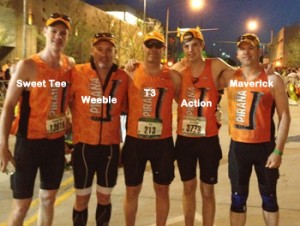 Overall it was a difficult day for the brothers. Goose would have been proud. Team Piraña trained poorly, ate like oil field workers, started slow and slowed down.
PIT Sweet Tee decided to run the half at 5:30pm on Saturday. In spite of no actually training and having worked all day Saturday he still turned in a respectable 1:47 half. The rest of the crew didn't fare so well…
Weeble, Maverick, T3 and PIT Action started together but began getting separated as early as mile 7. Maverick struggled with knee problems (post surgery) during most of training and that came back up early in the day. Weeble, running on fumes from having worked marathon logistics for several days prior started faltering at Lake Hefner around the 14 mile mark. At that point the Pirañas could see each other, but that would be the last time.
Action ran strong until mile 16 or so then started having overall issues (most likely due to a broken arm causing him to miss 3+ weeks of training) and started slowing down. T3 stayed with Action (it was a father son thing) and was sure they would be caught by Maverick and Weeble at some point. Maverick did catch Weeble, but they never caught T3 and Action. Action finished his first full marathon in 4:54:33 (as did T3)…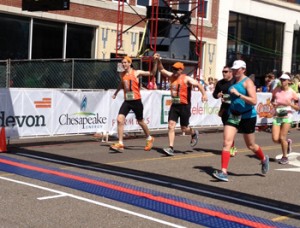 Maverick came in at 5:17:09, took off his shirt, pranced around the finish area, did his pushups, pranced around somemore…you get the picture. Weeble was right behind him at 5:18:47.