They opened the Hefner Dam Road (part of the Lake Hefner Trails) today. We are glad. We don't really like running up there, but it is nice to have the option again. The Pirañas were in attendance at the ribbon cutting ceremony along with a large group of Landrunners, Tri-OKC athletes, and several bike groups. The Hefner Dam Road is part of the Oklahoma City Trails system, and Hal McKnight (of Wheeler Dealer fame) gave us some good news about funding for upcoming new sections of trail as well as a bridge over the NW Expressway on the Hefner to Overholser Trail.
Here is Mav before they cut the ribbon: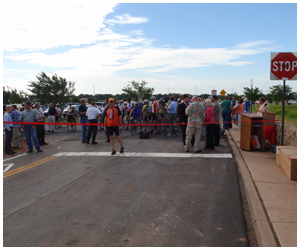 And Mav again (T3 is taking the pictures and Goose is somewhere in the crowd) helping to cut the ribbon: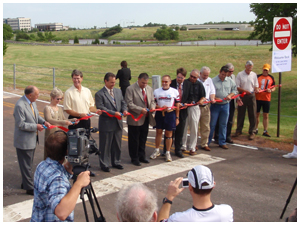 and the three Piraña Caballeros (from left: Mav, Goose and T3):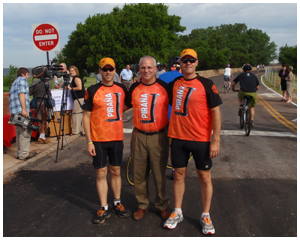 After taking this picture, Mav and T3 ran around the lake (about 10 miles) in the mid morning heat and humidity. While they were glad to have run the road on the opening day, and glad for the workout in the heat, they did not enjoy the run much due to the heat and their lack of sleep and preparation.