Mark "Goose" Dyer
March 13, 1961 – December 31, 2012
Services will be held Saturday, January 5,
10:00 AM at Metropolitan Baptist
(7201 West Britton Road, Oklahoma City)
A Meal Train has been set up to help the family during this difficult time.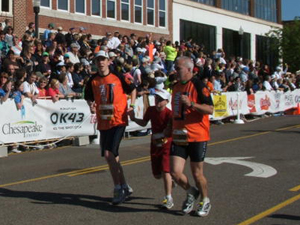 Brother Goose has left this mortal life. He will be greatly missed and greatly morned.
As team anchor, Goose prided himself in never pushing the pace. He was the one we counted on to keep easy days easy and hard days easy too. Although a U.S. resident from birth, his internal clock was set to Mexican time. Like the story about the two hikers and the bear, you didn't have to worry about being late for a training run unless goose beat you there.
As part of his cutting-edge training regimen, he perfected the art of the perpetual taper, and his nutrition plan was the stuff of legend – just eat like #%*& the night before every long training run, if he ever did them, since he was always tapering. Goose was the veteran of many marathons, long course triathlons and a 100 miler, proving that less is more–less training, more pain and suffering.
To steal a line from Ogden Nash confirming his team status, "This solemn thought I introduce: the higher the level, the bigger the goose."
Goose was a caring and reliable friend. The team will not be the same without him and we will miss his humor and solid step on the road and trail.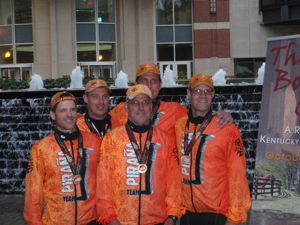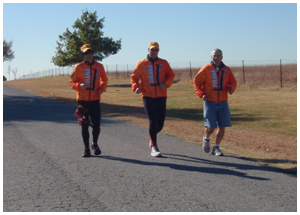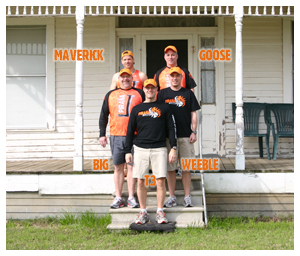 Obituary published in Daily Oklahoman on January 4, 2013
March 13, 1961 – December 31, 2012 EDMOND Mark R. Dyer passed away on Dec. 31, 2012, after suffering complications from pneumonia. He was born in Tulsa on Mar. 13, 1961 to Norris W. "Bud" Dyer and Martha Dyer. He married his beloved wife, Elizabeth Sleeper on Jul. 25, 1992, and they had six children. Their home is in Deer Creek (Edmond). Mark had a heart full of love and a deeply held faith in Jesus Christ. He was a member of Metropolitan Baptist Church, where he served terms as Elder and Deacon, and contributed his gifts richly to the church's ministries and communal life. He was a longtime employee and senior tax manager at the accounting firm Cole & Reed, after becoming a CPA in 1986. He graduated from Oklahoma State in 1984, and loved Cowboys wrestling and football. Mark graduated from Holland Hall HS in Tulsa in 1979. Throughout his life, he retained a love of choral music, Formula 1 racing, Dallas Cowboys football, and working on old Z-cars. His greatest loves, however, were his Lord, his dear wife and children, and his many friends. "He is like a tree planted by streams of water, which yields its fruit in season and whose leaf does not wither. Whatever he does prospers." (Psalm 1:3) Mark is survived by his wife, Elizabeth; his children, Stephen, Josiah, Caleb, Erin, Mary, and Micah; his mother, Martha Dyer (of OKC); his loving in-laws, Julian and Idabelle Sleeper and family; his siblings, Jennifer Dyer, John and Lynne (of Norman), Stephanie Dyer and Mark McCorkle, and Susanna Dyer and Greg Stefanek; and his eighteen nieces and nephews. Viewing Friday at Vondel L. Smith Funeral Home, 13125 N. MacArthur in NW OKC. Funeral service Sat., Jan. 5, 10:00 AM, at Metropolitan Baptist Church, 7201 W. Britton in OKC. Mark will rest at Arlington Memory Gardens in Midwest City. In lieu of flowers, contributions can be made to: The Mark Dyer Memorial Fund at BancFirst, 6200 Waterford Blvd., Oklahoma City, OK 73118.